How do I set up an account with Tututix?
It's easy and takes just a few minutes. You can fill out the form located
HERE
, or call us toll-free at 1-855-222-2TIX (
1-855-222-2849
).
Where do I log into the client portal?
How much does it cost to use Tututix?
We provide the service at no cost (free!) to dance studios and performing arts schools. The patron (Your Ticket Buyer) pays $1 per ticket plus the cost of processing, which is 5% of the Face Value of the ticket.
When do I get the money for tickets I have sold?
You may choose to get paid a lump sum after your event via check or direct deposit, or you can set up weekly direct deposits with your banking information in your client portal. NOTE: You will be required to select a Payout Method prior to submitting your first event. This payout method can be changed or updated at any time in your client dashboard under "Payout Info" after your initial selection.
How soon can my event page be online?
Usually within three business days, depending on the season and complexity of your events.
Can you assign seats?
Yes. Just provide a diagram of the venue seating chart during the event set up.
Can you work with all types of performances?
Yes, as well as performing arts, musical theater, and more!
Can my patrons pick their own seats?
Yes, your patrons can have full control over where they sit. We can also assign all seats based on our "best available" method if you prefer.
How do my patrons get their tickets?
Patrons can choose to have their tickets delivered electronically to their email or smartphone for FREE or have keepsake tickets mailed to them. If they choose keepsake tickets, the Tututix team prints out the tickets and mails them to your patrons via USPS First Class Mail.
Can my patrons print their own tickets?
Patrons who choose to have their tickets delivered electronically to their email can print off their own tickets. Studio owners can even customize print-at-home tickets, using the customization areas shown below.
Is there a charge for the optional keepsake tickets?
Yes, your patrons will be charged $4.50 per order if they choose the customizable keepsake ticket.
What do the keepsake tickets look like?
The tickets are printed on elegant, full-color, foil-embossed, keepsake ticket stock, similar to the samples below.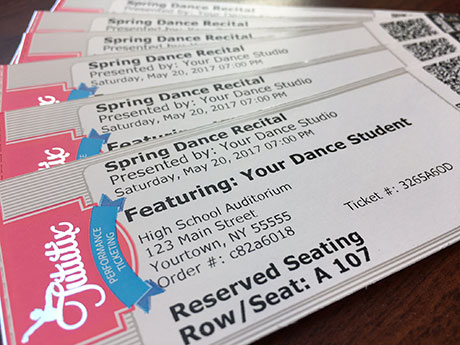 How do my patrons customize keepsake tickets?
A step in the online checkout enables them to add the dancer's name to the ticket. They can add a different name for each ticket if they prefer.
Can I get some sample tickets?
Yes, please email your contact information to
[email protected]
and we'll drop some in the mail today!
What are the hours of the Call Center?
Monday through Saturday, 9:00 AM – 8:00 PM and Sunday 12:00 AM – 8:00 PM (
Eastern Time
) The Call Center can be reached at
855.222.2849
 or 
435.222.2849
; select Option 5 if you are a ticket buyer or Option 3 if you are a client.
We include free tickets as a part of our recital fee. How does your system handle this?
We will set you up with special codes that unlock the free tickets. Your ticket buyers will enter this code during the purchase process. Reward codes can be unique or singular and can limit, specify, or allow specific purchases or requirements to be able to purchase tickets or receive special discounts.
Can you limit the number of tickets each family can purchase?
Yes. You can use the same code functionality as above, we will generate codes that must be used in order to purchase a specific amount of tickets. Or, we can set purchase minimums and maximums on specific Price Codes without using the reward function.
What are the standard refund and exchange policies of Tututix?
You, as the Client, get to decide the Refund and Exchange policies for your events. By default, we do not allow refunds after 24 hours of purchase but do allow exchanges of the same or greater value.
Can I sell tickets at the door on the day of the performance?
Of course! In response to the global pandemic, Tututix has created several new "Hands-Free" features to help keep you, your staff, and your ticket buyers safe and happy. This includes the addition of printable QR-Code Flyers for each performance that you can print and post at the door to continue selling tickets online even after the performance has begun.
If you prefer, you can request a Printed Door Ticket Kit. This optional service contains several items to help facilitate day-of-show sales, including your printed door tickets. If there are any unsold tickets, we will print them out on our keepsake stock and ship them to you via FedEx for FREE!
PLEASE NOTE: You must sell at least 100 tickets online or through our call center for each performance to receive free printed door tickets for your event and free shipping.